This design was born from my own desire for a standardised and easy-to-fit method of mounting Sprat & Winkle (S&W) couplings on 4mm scale wagons and coaches. These couplings are available direct from Model Signal Engineering or other good model shops.
The mount uses the "lower method" of fixing described in the coupling instructions. This method does not require a slot to be cut into the bufferbeam of the vehicle. It also uses a loop made of thin wire for the hook to couple to, rather than a piece of wire stretched between the buffers. This all helps reduce the visibility of the coupling.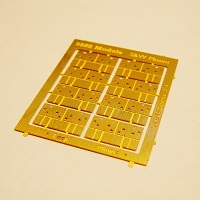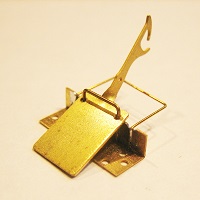 These etches are available in either single or bulk packs:
SWM – Single etch sufficient for four vehicles – £2.50
SWMB – Bulk pack of four etches sufficient for 16 vehicles – £9.00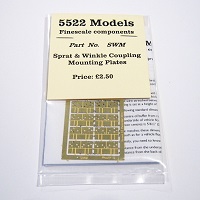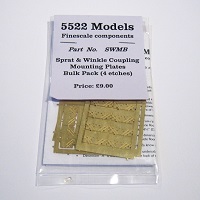 If you would like to see the instructions for these components, please click here:  Mounting plate for S&W couplings
To add to your shopping cart, and pay by Paypal, simply click on the buttons above. Postage will be added automatically at the checkout stage. For ordering in other ways, including details of postage, please see the Ordering page (opens in new window).